Carnelian Jewelry Canada
Montreal jewelry designer Veronique Roy Jwls creates unique Carnelian jewelry for everyday statements. We love the bright orangy-red colour of the Carnelian stone. To create the LIBRE collection, Veronique wanted a gemstone with a bright colour to welcome summer. And what it's better than this beautiful orange-red stone? And the result of our LIBRE collection is amazing!

We also love the Carnelian stone because it has been used since ancient times to give courage and confidence to its wearers. In addition, it is said to bring dynamism and happiness and appease feelings of jealousy and resentment.
Veronique Roy Jwls's jewelry is 100% made in Canada from start to finish. Buying a piece of jewelry here encourages a women-owned business and Canadian creativity!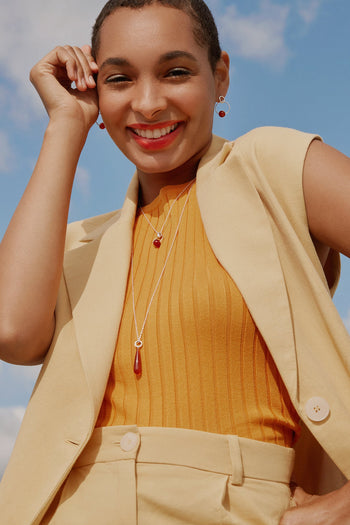 Showing items 1-11 of 11.