ASSUMÉE, Montreal Jewelry Designer Veronique Roy Jwls New Jewellery Collection
Introducing ASSUMEE, the latest exquisite collection by Veronique Roy Jwls, based in the heart of Montreal, Canada. Crafted with precision and passion, each piece showcases the timeless elegance of handmade jewelry. Available in Sterling silver, gold-plated silver, and solid 14k gold, ASSUMEE offers a versatile range of options to suit every style and occasion. The collection features eight innovative ear cuffs designed for unpierced ears, including two multifunctional cuff earrings that double as rings. Mix and match these artistic pieces to curate one-of-a-kind looks, reflecting your individuality.
Complementing the ear cuffs are a selection of earrings, including chic hoop earrings and elegant ear climbers, perfectly harmonizing with this distinctive collection. Discover the allure of ASSUMEE and experience the fusion of creativity and craftsmanship from a Montreal Jewelry Designer. Elevate your ensemble with sought-after pieces like ear cuffs for unpierced ears in Canada, exquisite gold ear cuffs, and stunning silver rings for women.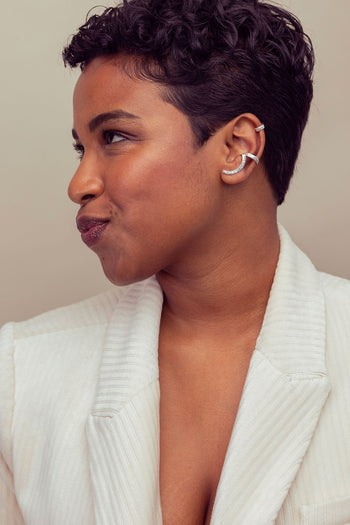 Showing items 1-24 of 24.